Rockin' the 'Tards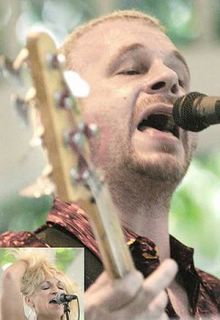 Boy we blazed last night in Keene NH. Why is it that public outdoor summer concerts are always attended by 90% "Spanish Royalty" if you get my drift? Man, I feel like Lennon makin' fun of the front row. One of many, many things John and I have in common. "Spastics". Ha ha. Sometimes I feel a kinship to the tardies, having temporarily joined their ranks on many occasions. Keyboard player Gary Gagnon in this band is such a better human being than me. He goes out in the crowd with the wireless and does the Joe Elliot thing and gets 'em all pumped up. What a guy. "Clap your hands!" "Don't feel bad if you miss!" He's going to heaven. I, meanwhile, am up on stage making 'tard faces at the drummer. Boy, that's evolved.
I sure look like a 'tard, huh, speakin' of? Blrg glrp. Not to mention I'm flippin' the bird w/ my fret hand. I'm really glad it's on th' front of the paper up there today. Lookit singer Debbie. I think she's in the middle section of "Love To Love You Baby". Hee hee.
Fuck The Man!!!!!!!!!
Fender
Panasonic
Hershey's
Smith 'n' Wesson