1980-1981: Years of Growth and Ferment 4: The Ineffable "Flesh+Blood" by the Inscrutable Roxy Music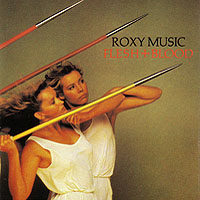 Here, ladies and gentlemen, for your daydreaming pleasure, is very possibly pop music's finest example of heartbreaking evocative romanticism. That is, until Roxy's 1982 monster
Avalon
. It could just be that the time was right for me, being 15 and living on the banks of the Rhine outside of Bonn, Germany, but there exists in my collection no other record so poignant, so heartwrenching. I think if I were pressed I might call this my favorite record of all time.
Strong words.
One must realize the Ferry and Roxy Music had been building to this moment since their 1972 inception, and though fans of the first iteration of the band found
Flesh+Blood
too overtly commercial, too produced and too "tasty", it remains an incredibly unique and compelling work. Like XTC did in 1983, Roxy had boiled down to a triumvirate assisted by sidemen. The brilliant and Byronesque Ferry, the extremely creative and tasteful Phil Manzanera and the consummate stylist Andy Mackay assembled the finest musicians of the day and deployed them in sparse, pointillist workouts of sweeping scope and drama.
Flesh + Blood
is home to the indisputably superb "Oh Yeah", the blueprint for 80's new romanticism "Same Old Scene", the compellingly, shamelessly romantic "My Only Love" and the fever-dreamish "No Strange Delight". Also of note is "Running Wild", a fantastically evocative guitar ballad and the retro-but-not-really "Over You".
When people pan this record, I'm reminded what an embarrasment of riches the last 40 years of pop music have been. To actually be able to afford to write this record off is nuts; I know a lot of people who would give their eyeteeth to be able to hear just one new album as rich and as sonically delicious as this.
1980 was a time rife with creative promise for enterprising bands; the scorched-earth policy of punk rock had left an environment where cool new hybrids could get attention. It was a time of constant hybridization, much like the mid-60's. The Roxy gestalt by this time was a tight little formula; one third Old Europe/crumbling castle, one third sweaty, histrionic American R&B and one third space-age rock 'n' roll dissolution. I loved the Roxy Music of the last three records; they were for me the first and only Roxy Music. I would work my way back through their catalog in the early to mid-eighties and find myself in awe of their way with a mood, but it was always this final lineup that influenced me the most. It's funny; it's like people who discovered XTC with
Oranges and Lemons
. Those Johnny-Come-Latelys crack me up.
Roxy Music's
Flesh And Blood
: Bobby Lightfoot's favorite album. This week.
Um, can someone respond and tell me what "Ineffable" means? I don't know- i just liked the way it looked up there, all cool and shit.