George Bush: My Night With Santa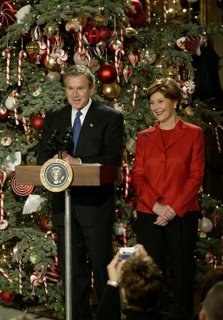 His voice came over the telephone, gruff, assured.
"Santa here," he intoned, "is this the White House?"
I was flummoxed and a litte intrigued. I might be the President of Amurrica but I'm still a little boy at heart.
Or a naughty teen vixen.
"Y-yes, this is President George Bush," I stammered, overwhelmed. I found his cologne oddly stirring.
"Well, George, word is up here that you've been a real stinker this year," Santa cooed manfully, "a real Naughty Scottie".
I shivered. "Am I going to be punished, Santa?" I squeeked ineffably, drawing my knees up to my chest and tracing the pattern on my bobby sock.
Santa laughed,
ho ho ho. "Why yes, saddlepal, looks like you're in for the full treatment. Ho ho ho."


Santa. I shivered. His beard would feel like cotton candy against my cheek.
HA HA HA HA! All right, man, I can't continue this post, as funny and utterly bereft of redeeming qualities it may be. My mom reads this shit.
ha ha ha ha.